Weekly Online Group Hypnosis Sessions
Welcome! I invite you to join our group below and take part in our live online group hypnosis sessions.
This group is comprised of members from all over the world - coming together once a week to be supported in uncovering the liberating truth about themselves that's been hiding beneath the surface of unhelpful conditioning for so many years.
Every week (see exact dates and times below) I will meet with you and the rest of the gang for 60'ish minutes where I'll guide you into the hypnotic state so that I can more easily change / remove old mental-emotional blockages that have been keeping you trapped in a constant low-lying state of struggle, fear and suffering.
Hypnosis with me is fun, profound, transformative and playful. I always have your best interests in mind and I always aim to have you leave each session more awake, alert, refreshed and unchained than you were when you first arrived.
Join The Group & Take Part In The Live Weekly Group Sessions:
By joining the group you'll be able to take part in the live weekly hypnosis sessions with me and you'll also have access to all session recordings (four recordings per month). For non-members, a single session recording is released on YouTube once per month. Group members can also make use of my "5-Minute Refresher" hypnosis which can be listened to each day to help reinforce and reintegrate all previous insights that were received from past group sessions.
There is one group session every week (so 4 sessions per month). The cost of the group membership is $15 per week. As a bonus, every time you refer a friend and they sign up for the group membership, you'll receive a free 60-minute 1:1 hypnosis session with me (these are great for addressing more specific issues that are unique to you).
Option #1 ~ Sign up and pay $15 per week (4 sessions per month):
Option #2 ~ Sign up and pay $60 per month (4 sessions per month):
Option #3 ~ Sign up and pay for the whole year for $497 (save 30%):
Refer A Friend And Get A Free 1:1 Hypnosis Session With Me
Whenever you refer a friend and they sign up for the group membership, send me an email at kyle@kylehoobin.com with the name of the person who signed up and then I'll send you a booking link for your free session with me.
(You can use the timezone converter below if needed)
Friday May 29, 2020:
Infusion for Creating Choiceless Freedom
6pm — 7pm PDT + Coffee Talk (Vancouver BC time)
Saturday June 6, 2020:
Infusion for Creating Thought-less Living
6pm — 7pm PDT + Coffee Talk (Vancouver BC time)
Friday June 12, 2020:
Infusion for Creating The Rebellious Life
6pm — 7pm PDT + Coffee Talk (Vancouver BC time)
Wednesday June 24, 2020:
Infusion for Creating The End of Past and Future
6pm — 7pm PDT + Coffee Talk (Vancouver BC time)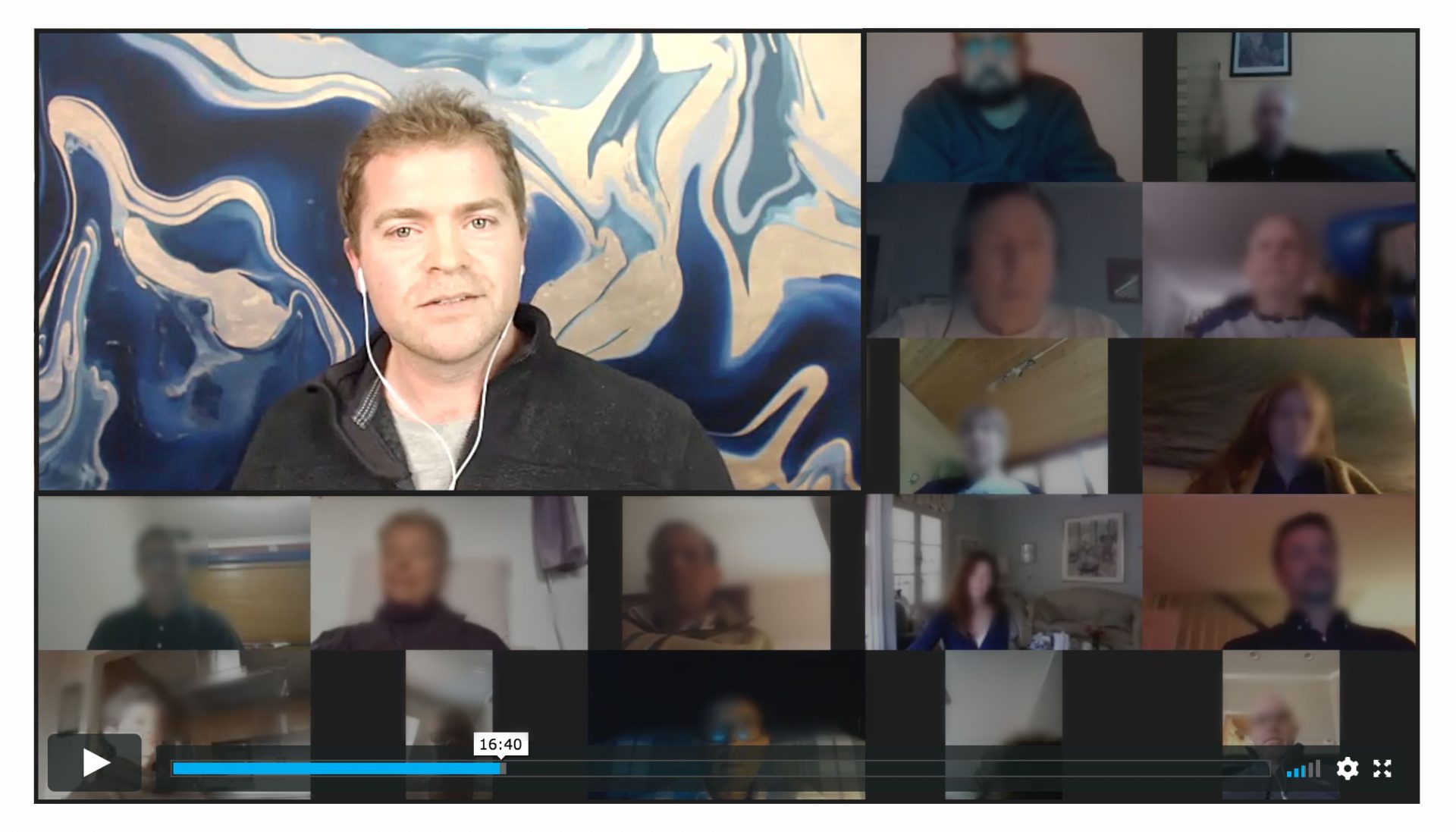 My work with the mind started at the age of 20 following an intense personal struggle that had engulfed the bulk of my adolescence. This struggle culminated in a deep realization about the nature of mind and the origins of its programming. Not long after this seismic shift took place, I began working as a self-inquiry teacher trying to help others shift into a heightened state of self-awareness. Although helpful, I couldn't help but feel that something was missing from my approach and I couldn't quite put my finger on what exactly that was.
Over a decade later, the missing piece finally presented itself. A Dutch master hypnotist who had been studying my work for over a year decided to reach out to me one day. He (enthusiastically) suggested I take a look at hypnosis as a means to enhance the work that I was doing since he felt there were many parallels between the two. It wasn't long before I realized that hypnosis was exactly the thing my toolbox had been missing.
After moving through an intensive crash course on the history and practice of this ancient science, I began experimenting with my own application of it and started to see amazing results in those I was working with. Mental-emotional blockages that would have normally taken months (if not years) to uproot and reprogram were now being totally transformed in less than an hour.
Since then I've been exploring the intricacies of hypnosis and have been working diligently to develop the best techniques for reprogramming the mind's many corridors of unhelpful conditioning...
"Before my session with Kyle I knew theoretically that nothing needed to be fixed, improved or achieved. However, I wasn't able to consistently translate this into the way I lived, which I was keen to do.
The hypnosis session itself was relatively simple. It required little on my part other than an intention, a willingness to be open, trust in Kyle, and a commitment to maintain focus, which just got easier as the session went on.
Immediately following, I experienced a subtle yet solid sense of euphoria which lasted 2 days. It was a very calm and peaceful feeling with overtones of joy. I felt a quiet confidence in the unfolding of moment by moment. Further on, although my mood continues to fluctuate and physical discomforts come and go, this steady sense of connection with myself and a deep, joyful sense of calm has remained consistent.
If you're ready for a big step further, I recommend a session with Kyle.
And if you're reading this, you probably are!"
— Jennifer C., North Queensland

---
"Before the session...
I've suffered from generalized anxiety and social anxiety for a lot of my life. Thanks to meditation I felt reasonably present and no longer had the racing thoughts that I used to have, yet I still suffered from fear and anxiety in different forms.
During the session...
A condition of comfort, warmth, safety and silence enveloped me at times during the session (and afterwards). I suffer from a lot of self-consciousness which is even with me when I close my eyes and meditate (particularly in groups). Hypnosis with Kyle was much more profound for me than meditation has ever been. It drew my attention away from myself and towards external points of relaxed concentration. At times it resulted in a substantial melting of my sense of self and a feeling of spaciousness, and at other times a tingling in the extremities (mainly the arms). During the session, Kyle spoke to my subconscious about the relaxation I would encounter in social settings.
After the session...
That weekend I experienced a number of social situations which had previously been anxiety-inducing and I experienced them with either zero or much reduced anxiety. Most importantly I experienced something new -- a great sense of wellbeing. At times it was greater than it had been during the hypnosis session. For the first two days after the session, thoughts no longer seemed as problematic or urgent. The inner dialogue that had previously swept me away with it no longer seemed worth the effort. There was a tremendous feeling of intuitive depth that was just nice to sit in and watch the world pass by without that feeling of low level anxiety. I see merit in Kyle's use of this modality both from a healing perspective and in terms of driving the frustrated seeker deeper. I will be doing more sessions with him."
— John Cromer of Adelaide

---
"I have a diagnosis of major depression and a panic disorder. I've been working with being present and letting go of ego for years now. I can dip into silence and presence very easily. I don't stay there though, because feeling present triggers my brain that bad things are going to happen. The sensation of unity leads to a sense of impending doom.
Many spiritual teachers have said that this doom sense is the ego fearing it's own end. So I worked on that from many angles. What I remember though is that during my teen years through mid twenties, my mother tried to commit suicide about 10 times. I spent much of that time in the lap of God... always knowing that she'd try again. So actually, it's part of my psychological conditioning that presence is paired with suppressed panic and fear. It's an automatic physical response. And it's gotten more difficult over the last few years as I've spent more and more time with being present.
I spoke very briefly about this to Kyle. Then I followed his directions for the hypnosis session. I watched as my mind and body went deeper. I felt my body go to sleep. At some point, I mulled over whether or not to keep going deeper, then remembered that I trust Kyle and it would be fine. I heard him speak simply and kindly to me. Saying a few things that maybe I've already said to myself, but this wasn't my ego trying to direct my source. It felt like a clear source talking to the same clear source in me. Basically saying that I didn't have to keep sending a panic signal through myself, as it was no longer necessary and I'd already found it didn't do anything useful. (Yes, I've definitely said that to myself.)
Waking up was easy, as I was watching the whole time.
Since then, the feeling of there always being panic at the edges, is gone. I don't feel sick, trying to accept presence and panic at the same time. I'm surprised and relieved. And I wonder if letting go of some deep conditioning can be this easy for everyone. I'm very grateful for Kyle's help."
"As perfect flow always knows and goes, I was directed to Kyle's videos and books at a quintessential moment in my unfolding. My entire memory and sense of self had been unraveling from what feels like the very beginning of my life as I knew it, and I felt that I had come to a breaking point, which felt like pure and total annihilation. My deepest inner-fabric was on fire, and I was holding on for dear life to what felt like a singular crumbling stone on an undefended, dark cliff face. Something impersonal and unrelenting was consuming me like a virus and I felt ravaged and lost.
I booked four sessions with Kyle, and had no idea what to expect. What was granted to me was a stark grace, stillness and presence that felt like truth and innocence remembering itself within me. Kyle's oneness is like breathing in an infusion of life and essence that seeps into the indefinable space as a flame of truth.
I did let go of that cliff face into the void, which is where I am. Kyle's pure being was like map in consciousness for me, showing me that I had landed where I had always already been. I am truly and deeply grateful for the essence that is Kyle. I feel eternally blessed to have un-remembered myself to be remembered as the indescribable singular truth…that still point within.
Thank you, thank you, thank you."
— Chella Ferrow, New York

---
"Dear Kyle, There was never a me, just the thought/feeling of me. There is only Presence-God-The Knowing, and everything appears in that. Among those appearances are a "body" and a "mind," which are not really objects, but more like happenings, always in motion. Seeing them as objects enabled the identification with them. Who identified? Consciousness, I suppose, because there appears to have been a shift in consciousness, as if everything were turned inside out. There is still a "person" appearing in consciousness, a person who sometimes feels anger, or bodily discomfort, or lust, or even "me," but that person is no longer the knower, but the known. It really is like watching a character in a movie, playing his role. Even so, the person seems far more quiet, sometimes like an empty vessel for Presence to shine through. I don't know how this will play out for the person, but I'm not too concerned with it. All I know is, being "me" really sucked 🙂 Thank you, Kyle, for your wisdom and your guidance. It was a privilege and a beautiful experience. With love, Esteban"
— Esteban Delgado, Seattle

---
"After becoming exhausted with books and mystical experiences using psychedelics, I felt like I could not make any more progress. I had read everything from Alan Watts and Eckhart Tolle to Jed Mckenna and Karl Renz. I have had more than 10 sessions with Kyle Hoobin over the course of one year and it has been the best investment I have made in my journey.  If you have read all the books and had all the mystical experiences like myself but still feel like you have not made any real progress then as the saying goes…
When the student is ready, the teacher will appear."
— Syed Hasan, chasethevision.com

---
"Think of Kyle as a precise, non-distorting mirror. Regardless of the image you present, what you receive back is a refined image of the real YOU. The experience of seeing your Self may initially elicit frustration, anxiety, sadness, anger, joy, or transcendence. But regardless of transitory emotions, we all long for glimpses of the true Self and the promise of returning to the truth represented in the image. Working with Kyle is very highly recommended."
— Dr. R. Jay Hamer
Assistant Professor of Psychology
Licensed Psychologist and Psychotherapist, New York
Join The Group & Take Part In The Live Weekly Group Sessions:
Option #1 ~ Sign up and pay $15 per week (4 sessions per month):
Option #2 ~ Sign up and pay $60 per month (4 sessions per month):
Option #3 ~ Sign up and pay for the whole year for $497 (save 30%):
Refer A Friend And Get A Free 1:1 Hypnosis Session With Me
Whenever you refer a friend and they sign up for the group membership, send me an email at kyle@kylehoobin.com with the name of the person who signed up and then I'll send you a booking link for your free session with me.
Infusion For Creating: Instant Silence — May 23, 2020
(Available in Members Portal & on YouTube)



Infusion For Creating: Fearlessness — May 13, 2020
(Available in Members Portal Only)



Infusion For Creating: Spontaneous Bliss — May 8, 2020
(Available in Members Portal Only)



Infusion For Creating: Effortless Fulfillment — May 2, 2020
(Available in Members Portal & on YouTube)



Infusion For Creating: Joy Without Cause — April 25, 2020
(Available in Members Portal Only)



Antidote For: Losing Control — April 15, 2020
(Available in Members Portal Only)



Antidote For: Not Accepting What's Happening — April 10, 2020
(Available in Members Portal Only)

Copyright © Kyle Hoobin 2020