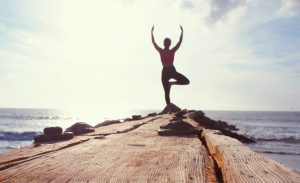 **Religious Disclaimer** I have nothing against the Roman Catholic religion. I happened to be raised in it which is why I'll be using it as an example in this little post.
My mother spearheaded the effort to keep my siblings and I on the righteous path to Christ when we were young. I had no idea what that meant back then (in fact, I still don't) but it sounded important at the time and my mother seemed to have a lot of conviction about the whole thing. I knew better than to question her most deeply held beliefs, so naturally I followed her wishes and did what she told me to.
Every Saturday we would go to church at 5:15 pm for an hour where we'd sit in a pew and listen to a priest recite bible verses which were occasionally sprinkled with his own take on things (to try and make things a little more interesting). The hour consisted mainly of standing and sitting, standing and sitting, standing and sitting. The job of those in the pews was not to pose questions or share, but to listen. At a designated time, everyone in the church was asked to turn around and shake each other's hands while saying "peace be with you" (this was often the most awkward time for everyone attending even though that feeling was largely hidden behind pious smiles).
Towards the end of the hour, everyone in attendance would stand up, follow quietly in single file down the centre aisle of the church towards the altar to receive a small flavourless white wafer and a sip of wine from the priest which we were told had just been recently turned into the flesh and blood of Jesus (for the record, it didn't taste like muscle tissue or blood). According to my recent Google search, Jesus first performed this bit of magic himself just before his death to give his followers something to remember him by. A few minutes after that sacred act of cannibalism, when everyone was quietly back in their seats, the priest would say a few more words to bring the show to a close. Needless to say, when the priest allowed us to "go in peace to love and serve the lord", it was a very liberating experience… almost like breaking free from a prison made of well-intentioned seriousness.
Unfortunately, that seriousness wasn't completely contained within those church walls.
Every other Sunday my siblings and I would have to kneel around the foot of my mother's bed to say rosary prayers (Hail Mary's and Our Father's). This was a 'pray for us sinners' event. Prayer time was especially dry except for the ongoing farting match between my brother and I. The contrast of reciting serious prayers with the explosive release of fermented gas is what made those regular prayer sessions just a little bearable. What gave my brother and I enough courage to break wind in those moments was my mother's inability to maintain a climate of seriousness (as her attempts to resume the prayers would often give way to fits of uncontrollable laughter due to the lingering stench in the air)… oh what a beautiful sight that was. It was like watching a priest turn to me and say "just kidding" in the middle of one of his church sermons.
Other brief interludes of sanity happened while I was working as an altar boy. Much to my brother's dismay, I wasn't very good at that job (he happened to be the other altar boy working with me). The one task that I could never seem to master was the ringing of the bells. At very specific times during the church ceremony, an altar boy was supposed to ring a set of bells to add an extra sense of importance to something that was happening. Due to consistent day-dreaming, I almost always missed my mark. Often I'd ring the bells pre-maturely or just a little too late. What turned these moments into pure joy were the grimaces I'd receive from my brother across the altar. The combination of being dressed in a white robe, ill-timed bell rings, embarrassed and profuse head-shaking from my brother, a confused look from the priest, an audience of 200 people and an atmosphere of religious seriousness was enough to evoke a kind of laughter that I have rarely experienced since.
Comic relief aside, these religious periods were some of the most dry, joyless, and serious times of my childhood; periods when the gap between what I felt intuitively and what I tried to adhere to spiritually widened.
Have you noticed? Old habits tend to die hard.
Are there any qualities with your current spirituality that are (eerily) similar to the old institution you were brought up with? If you look closely, you might just see some red flags.
Take your rituals for example. Do you have a 5:15pm church time still scheduled? By that I mean: Do you still reserve your spirituality for a small portion of your day? If so, what the hell is the rest of your day (life) about then? Is there an altar setup in your home with candles, crystals and some background music so that you can chant and sing along to Deva Premal and Miten while engaging in a staring match with a life-size portrait of Ramana Maharshi?
What about a priest? Do you have an authoritative spiritual figure that you still look up to? Do you agree with their words without questioning them… ever? Do you take how they present themselves to be how you should present yourself? Do you think they are more of the truth than you are? Do you only feel like acting truthful when you're watching, reading, or listening to them?
How about shaking hands with folks in the other pews? Do you present a spiritual persona to others; maintain a pious smile, shake their hands in the name of peace but really just want to tell them to fuck off? If so, honor the fuck off feeling. It may not be the clearest expression of non-dual truth but it IS how you ACTUALLY feel. Honor all of your actual feelings and then (and only then) can you begin to question where they're truly coming from and why they're there.
Do you eat the flesh and blood of a dead man? Are you trying to keep the memory of a dead 'saint' alive by doing what they did even if what they did seems a little strange nowadays?
And prayer time? Do you get serious about this 'truth' thing sometimes and try to convert those around you by showing them how they've gone wrong even though they obviously could care less? Do you sometimes hear yourself talking like a spiritual prophet and want to laugh at yourself but refrain from doing so because… then… there would be nobody left for you to be?
Last but not least… the altar boy job. Do you kind of see the ridiculousness in associating spirituality with anything that seems remotely serious? Do you see how 'not being worthy' is actually an ego-trip? Do you want to laugh more instead of praying more? Do you want to find more instead of seeking more?
Remember: You come into this world fully spiritual and completely non-religious. Whatever has changed about that for you is what's false / illusory / pretend / fear-based / make-life-sucky in you.
It's not too late to go back home. All that's required is a willingness to drop everything that's been handed to you. You don't need ANY of it. Truly. If you did, wouldn't life have gotten better by now?
Here are some suggestions and substitutions that you can use for your current spirituality:
Crystals:
Suggestion — Sell them on Ebay.
Substitution — Head to the beach and fill your pockets with some cool rocks.
Your shrine to some guru in your house:
Suggestion — Sell the stuff on Ebay (keep the incense…. mmm… incense.)
Substitution — Frame a picture of Cookie Monster (a lit candle below him is acceptable).
Your daily yoga classes:
Suggestion — Sell your mat and pants on Ebay.
Substitution — Buy a dog and play with it.
Your vast collection of the most profound spiritual books ever written:
Suggestion — Sell them. On Ebay.
Substitution — Take two pieces of computer paper, fold them together in half and staple them down the middle. Then, draw some happy pictures on all of the pages and color them in. Finally, title it: "The Most Important Book In The Universe."
Your attempts to convert your family and friends to this 'Truth':
Suggestion — Try to remember that the best "diamonds in the rough" are found on Ebay.
Substitution — Stop hanging around people who don't like you.
Your regular attendance to Kyle's livestreams on Youtube:
Suggestion — Sell something on Ebay and donate the earnings to Kyle.
Substitution — None needed.
Copyright © 2018 Kyle Hoobin